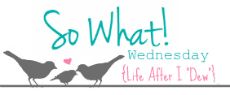 I'm linking up with Shannon for the very first time EVA to tell you what I'm saying SO WHAT to this week!
SO WHAT if...
My parents left from their visit yesterday and I almost cried. Sometimes living far apart is hard.
Sometimes I think living far apart is the best thing ever.
I didn't clean up Natalie's explosion of toys last night so my living room is a mess. Matt's out of town so who am I trying to impress?
I've come to look forward to Matt being gone just so I can have the bed to myself. Most people miss their husbands at night. Me? I don't miss the snoring, the 10 pm sharp bedtime, or the snuggling in the middle of the night. Sister likes her space.
I let Natalie watch TV when she eats at home. Girl goes into a trance and I can shovel the food right in. It's survival mode around here people. And I'm not above Dora, Diego, or Peppa to help me out.
I think Pioneer Woman is super funny on her blog and on Twitter...but her show on Food Network totally makes me uncomfortable for her.
I was excited when the Olympics ended because Days of Our Lives came back on the air. Two weeks off is a long time!
I want to contribute to the income of our family by making cakes more regularly, but every time I get an order...my first thought is, crap. Now I have to make a cake.
What are YOU saying SO WHAT to today?